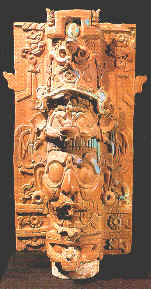 Sun God
National Museum of Anthropology

America: Mexico

Colonial Period

.
Chiapas

From the beginning, conquistadors saw the lands of Chiapa Indians as vast, rather mysterious territory, far removed from other colonial centers. These men from Old World assimilated the complexity of both geographical setting and indigenous population slowly.

A series of Institutions appeared in this region shortly after the Conquest designed to strengthen Spanish control over the natives. For example, Audiencia de los Confines was created in 1542, with jurisdiction over Honduras, Nicaragua, Chiaps, Yucatan, Guatemala and the territory known as Castillo del Oro.

The bishopric of Guatemala was established in 1534, to which Chiapas and Soconusco were subject. The diocese of Chiapas was created by bull of Pope Paul III in 1538, and its second bishop was Baartoleme de las Casa. He arrived in Cuidad Real in 1545 and from the start had serious confrontations with local Encomenderos (Spaniards granted Indian communities), because of their mistreatment of natives.

After many difficulties, in 1550, Las Casas managed to arrange a meeting of high authorities who would examine the question of nature, condition and treatment of Indians in dept.

The expansion and growing strength of Catholicism in Chiapas led to the building of numerous churches and monasteries, as well as cathedral in Ciudad Real. Towns began to grow and flourish economically. One of these was Chiap de Corzo, originally an Encomienda, in the course of time it became dependent directly on the Crown.

The main town in Chiapas during colonial times was Ciudad Real (San Cristobal de las Casas). Soon, after it was founded, many families of conquistadors and nobles lots on which to build their homes and settle permanently.

Native districts began to spring up around Spanish city of Ciudad Real, bringing racial and cultural crossing. Education was given great boost with the arrival of Jesuits in 17th century, as they created the school of San Francisco Javier, the only one in the province.

Relations between the natives and Spanish were not always friendly however. For example, in 1712, there was terrible crash with Tzeltals, which began in Cancun and caused people to unite against European domination.

Agriculture and animal breeding were promoted in villages and on haciendas. Trades became more and more important, and so shoemakers, blacksmiths, saddle-makers and other craftsmen could be found in towns.

Intendencia de las Chiapas was created in 1790, with Agustin de la Cuenta Zayas as its first head. The territory was divided into three parts; one of those had its capital in Ciudad Real and was composed of 56 villages. Another was centered on Tuxtla, with 33 villages and the third in Soconusco, with 20 communities.

Because of its geographical position, Chiapas did not play an active part in War of Independence, although Mariano Matamoros defeated Spanish forces at Tonala in 1813. Comitan acceded to Iguala Plan in 1821, followed by Ciudad Real, Chiapa and Tuxtla, which recognized Mexican Empire and negotiated separation from Guatemala. However, Chiapas did not formerly declare its annexation to Mexico, until September 1824.


.