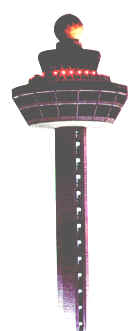 Changi Airport Control Tower

Countries: Asia
Entertainment
.
Singapore

Animal, Birds and aquatic Life
2 Jurong Hill, Tel.: 265 0022, (8-18 daily)
One of Singapore's major attractions, beautifully landscaped 20-hectare Jurong Bird Park, is the largest one in all the Southeast Asia. Home to over 8000 birds from 600 species including one of the largest Hornbill collections in the world, Jurong Bird Park holds the distinction of having the world's tallest man-made waterfall.

Jurong Reptile Park
241 Jalan Ahmad Ibrahim, Tel: 261 8866, (9-18 daily)
Southeast Asia's largest reptile park features over 50 reptilian species in landscaped setting.

Night Safari
80 Mandai Lake Road, Tel: 269 3411, (7:30-24)
As the world first and only night zoo, this is an experience that cannot be recommended enough.

Singapore Crocodilarium
730 East Coast Parkway, Tel: 447 3722, (9-17 daily)
View over 1000 crocodiles at close proximity. Try to make it for the feeding time (11 AM) on Tuesdays. Crocodilarium also boasts a comprehensive reptilian product shop.

Singapore Zoological Gardens
80 Mandai Lake Road, Tel.: 269 3411, (8:30-18 daily)
Employing an open zoo concept of using moats and rock walls as natural barriers. Spreading over 28 hectares, it is home to over 3000 mammals, birds and reptiles, including rare and endangered species. Among the many highlights of the zoo are the world's largest captive Orang Utan group and Fragile Forest, an exciting and educational display of ecosystems and rainforest culture.

Underwater World
Sentosa Island, Tel.: 275 0030, (9-21 daily)
Asia's most exciting tropical oceanarium, Underwater World, has an 80-meter submerged acrylic tunnel, which allows one to view 2500 marine creatures from 250 species in stunning proximity: Shark, stingray, moray eel, stonefish, turtle, weedy sea dragon... and also Piranhas, electric eel, dugong and pink dolphins in Dolphin Lagoon.

.