Bukit Timah Nature Reserve
177 Hindhede Drive, Tel.: 1800 468 5736, (7-19 daily)
One of only 2 rainforests in the world within city boundaries (the other is in Rio de Janeiro), the 164-hectare reserve contains more species of plants than the entire North American Continent. In the heart of the reserve lies Singapore's highest point, Bukit Timah, 164 m above sea level, with wildlife like long-tailed macaques, flying lemurs and the seldom-seen pangolin and mouse deer waiting to be discovered.

Chinese and Japanese Gardens
1 Chinese Garden Road, Tel.: 264 3455, (9-18 daily)
Situated side by side, Chinese and Japanese Gardens, reflect very constructing landscapes. The 13-hectare Chinese Garden re-creates a classical Chinese imperial garden with twin pagodas, a tea gallery and other Chinese architecture. Japanese Garden, on the other hand, emphasizes simplicity, with stone lanterns, shrubs, Zen rock gardens, traditional summer houses and classical Japanese motifs creating a soothing atmosphere.
Chinese and Japanese Gardens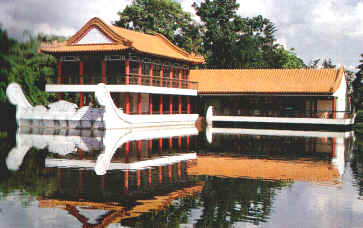 East Coast Park
Off the East Coast Parkway (ECP), between Bedok & Marine Parade
A favorite playground of Singaporeans, East Coast Park holds many avenues for fun. One can bowl, cycle, windsurf, canoe, have a picnic, roller-blade or just chill out here.

Fort Canning Park
Behind Singapore Drama Center & Singapore History Museum
Built by British between 1859 and 1861, as an arms store, barracks and hospital. The hill is scared to Malays because this is where early Malays rulers were laid to rest. This is also where Sir Stamford Raffles built his own bungalow, Singapore's first Governments House. Fort Canning is now popular venue for arts, including sculpture exhibitions, plays and ballet under stars.

Mandai Orchid Gardens
Mandai Lake Road, Tel.: 269 1036, (8:30-17:30 daily)
This is Singapore's largest commercial orchid garden and it's worth a visit for colorful displays and method and manner of cultivation. "Orchid Gift Box Service" will deliver the elegant flowers to any address in the world.

Marina South City Park
Marina South, off Prince Edward Road via East Coast Parkway
A giant sundial and disc sculptures which revolve in the breeze are the park's main attractions. With open spaces and breezy winds, it is a popular haunt for kite-flyers.

Mount Faber
Kampong Bahru Road (leading to Mount Faber Road)
Mount Faber offers excellent views of Singapore skyline, harbor and offshore islands.

Reservoirs (MacRitchie, Peirce, Lower Seletar & Upper Seletar)
Off Thomson, Upper Thomson Road & Mandai Road
Surrounded by broad swamps, jungle and greenery, the cool reservoir parks and MacRotchie and Seletar are popular strolling and picnic spots for families.

Singapore Botanic Gardens
Cluny Road, Tel.: 471 7361, (5-24 daily)
Close to the city, Singapore Botanic Gardens combines both primary jungle and manicured gardens in a 52-hectare spread.. Housing an abundance of flora, including many rare specimen, it is also a popular venue of outdoor concerts. National Orchid Garden (8:30-19) has the world's largest orchid display featuring over 60,000 plants and orchids, and houses the famed "VIP Orchids" named after visiting state dignitaries.

Sungei Buloh Nature Park
301 Neo Tiew Crescent, Tel.: 794 1401, (7:30-19)
Sungei Buloh Nature Park is Singapore's first designated wetland nature reserve offering hiking trails, 10 observation points and many hectares of freshwater ponds, prawn farms and mangroves.