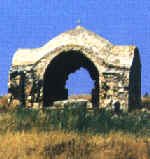 Agios Theodoros ton Chortakion Church
Sotira
Cyprus: Cities
Ammochostos Area (Famagousta)

.
Places of Interest
Paralimni


Since Turkish military occupation of Ammochostos in 1974, this small town has become the temporary administrative center of the district. Twin aisled vaulted church, dedicated to Virgin Mary (Panagia), is decorated with unusual 18th century porcelain plates. Church, parts of which belong to 13th century, houses a small ecclesiastical Museum. Other interesting churches are also to be found in the area.



Agia Napa


Originally a fishing village, it is now a major tourist resorts. Charming mediaeval monastery dedicated to "Our Lady of Forests" stands in the middle of the village, surrounded by a high wall. Its 16th century church is partly underground and cut into the rock. The hostel, West of the church, belongs to World Council of Churches. The ancient sycamore tree, in front of South gate, is believed to be over 600 years old. Marine Life Museum could be found within the premises of Agia Napa Municipality.



Deryneia


Village has three interesting churches; the small domed 17th century church of Agios Georgios, 15th century Agia Marina church, and a church dedicated to Virgin Mary with excellent 17th century icons. From this village one may gaze on "ghost city" of Ammochostos. Once the most popular holiday resort in Cyprus, Ammochostos lies desolate since 1974, as all its inhabitants are now refugees.



Sotira


There are five Byzantine Churches of considerable importance as regards their architectural style and the beauty of masonry.


Church of Agios Mamas lies at Eastern entrance to the village. It dates back to the early 16th century, as do most of its surviving wall paintings. About one kilometer to the West is the cruciform church of Panagia Chordakiotissa, Church of Agios Georgios Chortakion and the church of Agios Theodoros (only the narthex survives). In the center of the village lies Church of Metamorphosis tou Sotiros (13th-16th centuries), which displays excellent examples of post-Komninian art (early 13th century). In the center of the village is a small ecclesiastical museum. Tel: (03) 92 39 32



Liopetri


Here is a 16th century church dedicated to Virgin Mary and 15th century church of Agios Andronikos, with an octagonal dome and murals, which can still be distinguished in the apse. Liopetri still carries on the traditional craft of basket making.



Frenaros


Village of Frenaros has its own small Byzantine churches. Two of them, Agios Andronikos and Archangelos Michail date back to 12th century. Church of Agia Marina has some interesting frescoes painted by different artists.



Potamos Liopetriou


A picturesque fishing refuge. Nearby are the remains of a Venetian watchtower. French poet, Arthur Rimbaud, has worked in this area in 1880s.




.