The Entry into Jerusalem, portable wooden icon, 16th century, from Panagia Chrysaliniotissa Church, Byzantine Museum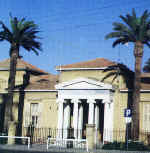 Cyprus Museum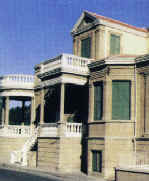 State Gallery of Contemporary Cypriot Art

Cyprus
Lefkosia (Nicosia)

.
Cities
Lefkosia lies roughly at the center of the island, with a rich history that can be traced back to the Bronze Age. It only became capital of the island in the 11th century AD. The Lusignans turned it into a magnificent city with a Royal Palace and over fifty churches.


Today it blends its historic past brilliantly with the bustle of a modern city. The heart of the city, enclosed by 16th century Venetian walls, is dotted with museums, ancient churches and mediaeval buildings preserving the nostalgic atmosphere of years past. Yet this old heart is split in two, leaving Lefkosia the only capital city to remain divided by force.


New Lefkosia developed outside the walls, and became a contemporary and cosmopolitan business and cultural center. Just a few miles away are enchanting places of interest such as Byzantine churches and monasteries, archaeological sites and charming villages.


Organized free walking tours give an exceptional chance to the visitor to get acquainted with the character of the old city.


Starting point: C.T.O. Office (Laiki Geitonia) on Mondays and Thursdays at 10:00, Tel: (02) 67 42 64.
.