Agios Irrakleidios Convent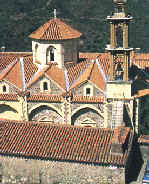 Machairas Monastery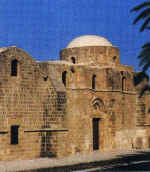 Fikardou village

Cyprus: Cities
Lefkosia (Nicosia)

.
Places of Interest: 2
Cyprus Postal Museum
Agiou Savva St. 3B, Tel: (02) 30 47 11



Collection of Cyprus stamps from 1800 onwards. These stamps, classified internationally amongst the best, are of significant value in world philately.



Cyprus Jewelers' Museum



Praxippou 7-9 Lefkosia, Tel: (02) 66 72 78



A display of traditional jewelers from the end of the 19th century including ornaments, religious items, silver utensils and old tools.



Famagusta Gate



Leoforos Athinon, Tel: (02) 43 08 77



Venetian walls, which completely encircle the old city have a circumference of 4.5 km and possess eleven heart-shaped bastions. There were only three gates to the city in North, South and East. One of these gates, Porta Giuliana called Famagusta Gate, has been restored and is now Lefkosia Municipal Cultural Center. Vaulted passage and two side rooms are used for exhibitions, conferences, lectures and various performances, with the passage leading to the moat. One of the most typical quarters of the town close to Famagusta Gate is also being rehabilitated.



Nicosia Municipal Arts Center



Apostolou Varnava 19, Tel: (02) 43 25 77



The center is housed in the building of the old power station, which is one of the finest examples of industrial architecture in Cyprus. Its aim is to promote contemporary creativity at its highest level by organizing important and prestigious exhibitions.



State Gallery of Contemporary Art



Leoforos Stasinou and Kritis, Tel: (02) 30 29 51 and 30 29 52



Representative collection of paintings and sculpture by 20th century Cypriots artists are shown.



Chrysaliniotissa Church



Within walking distance from the Archbishopric



Considered the oldest Byzantine church in Lefkosia, it is dedicated to "Our Lady of Golden Flax" and is believed to have been built in 1450, by Queen Helena Palaeologos.



Omeriye Mosque



Trikoupi St. Tillirias Square



It is located near the main Municipal Market, within the walled city. Converted into a mosque in 1571 by Mustapha Pasha, who believed that the original 14th century Augustinian church of St. Mary was built on the spot, where prophet Omer rested, when visiting Lefkosia. Most of the original building was destroyed by Ottoman artillery. The door of the main entrance belongs to 14th century Lusignan building. Remains of a later Renaissance phase of the building could be seen at the Northeastern side of the monument.



Faneromeni Church



Onasagorou St., within the old city



Built in 1872, this used to be the largest church in Lefkosia. The marble mausoleum to the East of the church contains relics of the bishops and priests executed by Turks in 1821.



.