.
Bowl of Sgraffito Ware, Medieval Period, Cyprus Medieval Museum, Lemesos Castle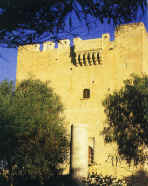 Kollosi, Medieval Castle
Cyprus
Lemesos (Limassol)

.
Cities

Successor to two city-kingdoms and host to a Royal Wedding in the middle Ages, contemporary Lemesos stretches along South coast.

Proud of the spontaneous hospitality of its people, its archaeological sites, its mediaeval castles and its merry Carnival and Wine festivals, Lemesos is the island's most important tourist and wine industry center.

Hotels, restaurants and nightspots abound along the beach whilst close by lie pine-clad southern slopes of Troodos, with picturesque wine producing villages, idyllic mountain resorts and picturesque Pitsylia area.



.