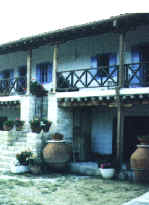 Cultural Center of Contemporary Art in Archangelos Michail, Monagri
Cyprus: Cities
Lemesos (Limassol)

.
Lemesos Area-2
Agia Anastasia Church
Pano Polemidia



This is a complex of two churches. The older one, possibly dating to 12th century, is on the East side and is a cross-in-square domed church. The second church, on West side, was added in 14th century and built in the same architectural style. The surviving mural paintings date back to 14th-15th centuries.



Agia Christina Church



Germasogeia



Germasogeia is an important municipality in Lemesos area. Church of Agia Christina, which lies in the center of the village, also houses Germasogeia Ecclesiastical Museum. It is a small church with a flat roof, the outcome of several recent interventions. Recently restoration work has revealed 16th century wall paintings.



Agios Georgios Alamanos Convent



Off Lefkosia-Lemesos road, 19 km from Lemesos



Originally founded in 12th century. Nuns, besides performing their religious rites, spend their time in icon painting, cultivation of flowers and herbs and production of honey.



Kourris Valley


A series of important Byzantine monuments, e.g. Panagia Amasgou, Timios Stavros-Kouka, Archangelos Monagri, could be found along the Kourris valley, about 20 minutes from Lemesos. The vaulted church of the Monastery of Panagia tis Amasgou belongs to 12th century and is covered by a second roof made of wood and tiles. Church retains 12th, 14th and 16th century wall paintings. Monastery is now run as a nunnery. Archangelos at Monagri was built in 1740 on the foundations of an older monastery that had burned down. One of the interests is the painted wood-carved iconostasis and nearby olive oil mill of the Roman period. Northern buildings of monastery have been renovated and turned into a Center for Contemporary Art.


Timios Stavros at Kouka has an excellent example of the Palaeologian style on a wall painting of 14th century.


Not far away is the picturesque village of Laneia, a favorite with artists.

.