Woodcarving
Terracotta plank-shaped figurine
Middle Bronze Age,
Cyprus Museum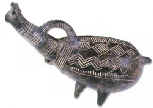 Terracotta animal-shaped figurine
Early Bronze Age,
Cyprus Museum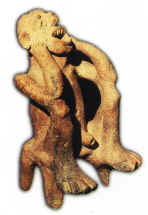 Terracotta figurine of a sitting man
Chalcolithic Period
Pierides Foundation Museum, Larnaka
History
Cyprus

.
10,000 Years of History
Cyprus, although a small country, has a rich cultural heritage which is evident from the vast number of ancient monuments and sites, castles and forts around the island.



Cultural heritage of a people is its most important asset, its identity and a sense of continuation through time. Cyprus is the third largest island in the Mediterranean and standing as it does at the crossroads of Europe, Asia and Africa. It has had a tumultuous history. The Mycenaeans Achaeans brought their civilization here, establishing the first Greek roots 3000 years ago.

Many others passed through, including Phoenicians, Assyrians, Egyptians, Persians, Romans, Crusaders, Venetians, Ottomans and the British. Splendor of Byzantium, founded by Constantine the Great at Constantinople, encompassed the island of Cyprus. Here are prehistoric settlements, ancient Greek temples, Roman theatres and villas, Early Christian basilicas, Byzantine churches and monasteries, Crusader castles, Gothic churches and Venetian fortifications.



In villages, old customs and traditions are still kept alive. Young girls still engage in lace-making in the beautiful village of Lefkara just as their grandmothers did before them.



Potters still create wondrous anthropomorphic shapes to decorate their earthenware vessels at picturesque Foini and the sound of hand-looms can still be heard in Fyti, home of attractive hand-woven materials, whilst, men in traditional baggy trousers,
"
vraka
"
, still congregate at the coffee shop for a game of backgammon.



In Cyprus, 20th century rubs shoulders with a civilization 10000 years old. There are festivals whose origins stretch back into antiquity, like Carnival and Anthestiria organized in honor of God Dionysos; at Kouklia, where Temple of Aphrodite once stood, a church was known until a few years ago as 'Church of Virgin Mary Aphroditissa'.

The aura of the Great Goddess of Cyprus is still present in Pafos and all over 'the Sweet Land of Cyprus' in the beauty of the landscape, mildness of the climate and charm of the people. The immortal words of Euripides and Sophocles ring out on warm summer evenings at Ancient Kourion Theatre and Pafos Odeon during performances of ancient Greek drama.



In September, wine flows free and spirit of Dionysos, god of wine and merriment, is present throughout the Wine Festival. The Mediaeval folk songs are still sung in Cyprus keeping alive the legends of Digenis, the unconquerable border guard of Byzantium and of his beautiful Queen, Rigaina. In narrow streets of the walled city of Lefkosia, coppersmith works with metal as did his ancestors 5000 years ago. In the shade of old houses with their overlooking balconies, the flavor of past lingers among old typical stone houses.



In Cyprus, the past lives side by side with the present, in a unique tapestry of living history.


.