Tamassos: Stone Statue of lion, Cypro-Archaic II Period, Cyprus Museum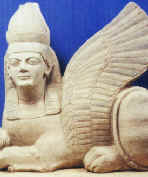 Tamassos: Stone Statue of sphinx, Cypro-Archaic II Period, Cyprus Museum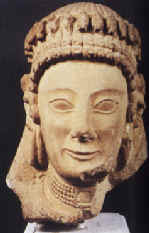 Stone head a woman of statue from Idalion, Cypro-Classical I Period, Cyprus Museum
History
Cyprus

.
1191-1571 Ad

1191-1192-RICHARD THE LIONHEART AND THE TEMPLARS


Isaac Comnenus, self proclaimed 'Emperor' of Cyprus, behaves discourteously to survivors of a shipwreck involving ships of Richard's fleet on their way to Third Crusade. Richard in revenge defeats Isaac, and takes possession of Cyprus marrying Berengaria of Navarre in Lemesos, where she is crowned Queen of England.


A year later he sells the island for 100,000 dinars to Knights Templars, who resell it at the same price to Guy de Lusignan, deposed King of Jerusalem.






1192-1489-FRANKISH (LUSIGNAN) PERIOD


Cyprus is ruled on the feudal system and Catholic Church officially replaces Greek Orthodox, which though under severe suppression manages to survive. The city of Ammochostos is now one of the richest in Near East. It is during this period that historical names of Lefkosia, Ammochostos and Lemesos are being referred to as Nicosia, Famagusta and Limassol respectively. The era of the Lusignan dynasty ends, when the last Queen Catherina Cornaro cedes Cyprus to Venice in 1489.






1489-1571-VENETIAN PERIOD


Venetians view Cyprus as a last bastion against Ottomans in the east Mediterranean and fortify the island, tearing down lovely buildings in Lefkosia to reduce the boundaries of city within fortified walls. They also build impressive walls around Ammochostos, which were considered at the time as works of art of military architecture.



.