Museum of Anthropology is located on the cliffs of Point Grey and houses one of the world's finest displays of Northwest Coast First Nations Art in spectacular building, overlooking mountains and sea.

See poles, feast dishes and canoes of Kwakwaka'wakw, Nisga'a, Gitxsan, Haida, Coast Salish and other Northwest Coast peoples inside the soaring glass and concrete structure of the museum's Great Hall.

Admire the world's largest collection of works by internationally acclaimed Haida artist Bill Reid, including his famous cedar sculpture "Raven and First Men".

Visit the award-winning Koerner Ceramics Gallery, displaying collection of European ceramics unique to North America, as well as specially commissioned textiles and ceramics by Vancouver artists.

Explore the museum's unique Visible Storage Galleries, where more than 15000 objects from around the world are accessible to the public. Arranged according to culture and use, Visible Storage Galleries invite comparison and contrast of objects from around the world.

Temporary galleries feature world-class exhibitions of new media, prints, sculpture and carving by contemporary artists.

Stroll through the grounds of the museum, where two Haida houses and ten poles capture the dramatic beauty of traditional Northwest Coast architecture and design.

One can enjoy wide range of special exhibitions, public and educational programs and also the Museum Shop.

MOA was founded in 1949. Today, it is Canada's largest teaching museum and one of its most popular public museums. The award-winning building, which opened in 1976, was designed by Canadian architect Arthur Erickson, to reflect the post-and-beam structures of Northwest Coast First Nations.

MOA's collections include both archeological material and ethnographic objects from around the world. Through exhibitions, public programs and education, MOA encourages use of the collections to foster understanding of and respect for First Nations and other cultures represented here.

MOA is best known for its collections from aboriginal people of coastal British Columbia. These first people have maintained a complex social and ceremonial life, as well as vibrant artistic traditions continually relevant to their own people and increasingly recognized and appreciated by galleries, collectors and visitors from around the world.

In 2003, about 169,000 First Nations People live in BC province, some in urban areas, others in Reserve communities, situated within ancestral territories. The creation of Indian Reserves by presiding government was, and continues to be, a very controversial issue. First Nations' control over resources and traditional lands is currently the focus of legal and other debates across Canada.

Names in First People's languages are changing to reflect their own preferred usage. Newer museum signage includes earlier usage in brackets.

Museum Shop features jewelry, prints and carvings, made by Northwest Coast artists, as well as books on art, culture, history and First Nations. All revenues from the Shop are used to support MOA collections and programs.


Different parts of Museum:
A) Front Doors
The K'san Doors were made from red cedar in 1976, by 4 Gitxsan master carvers: Walter Harris, Earl Muldoe, Vernon Stephens and Art Sterritt. When closed, the doors from the shape of a Northwest Coast bent-box.

B) Museum Lobby
Used for receptions, small exhibits and events, the Lobby also contains 5 Haida pole fragments and 2 Kwakwaka'wakw interior house posts.

C) Ramp
As you walk down the Ramp, you'll see carvings by Northwest Coast artists. At the top of the Ramp, on either side, are objects from Coast Salish region (Vancouver area), including pieces from Musqueam, on whose ancestral land the Museum is built. Further down and to the right are Kwakwaka'wakw house posts and other carvings; to the left are Haida pole fragments.

D) Crossroads & Information Desk
At the base of the Ramp is Information Desk, staffed by Volunteers. Behind the Desk is detailed map of BC's First Nations, as well as several Source Books, containing information about objects and issues of relevance of the Museum and First Nations.

E) Great Hall
This spectacular space created by 15 meter high walls of glass and ever-changing natural light is frequently the site of concerts, drama and dance, as well as lectures and other events. Here is found totem poles, house posts and carved figures (most from the mid-19th century) from several Northwest Coast Nations.

F) Outdoor Sculptures
Through the window of the Great Hall, two Haida Houses are visible, as well as several outdoor poles. For a closer look, re-trace steps to the main entrance and turn right. Then follow the path to the Haida Houses. On the way to the back, look for 2 carved house-posts flanking the path. These were made by Musqueam artist Susan Point and installed in March 1997.

G) Galleries 3, 5, 8, 10
These arte temporary exhibit spaces.

H) Theatre
It is used as temporary exhibit space, as well as for lectures and performances.

I) Visible Storage
This gallery brings more than 14,000 objects to public view. In most museums, such objects are stored behind-the-scenes, but here at MOA, You can browse through the collections at your leisure. Objects are arranged according to cultural origin and use. Nearby data books provide information on specific objects.

J) Rotunda
Bill Reid's best-known sculpture, "The Raven and the First Men", is displayed here alongside 4 cases, containg some of his other works in gold, silver, argillite and wood.

K) Koener Ceramics Gallery
It houses a unique 600-piece collection of 15th to 19th century European ceramics.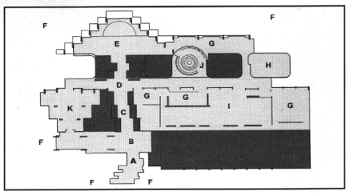 Photos: Masoud