Address: Ferdowsi Mausoleum, Tous, Meshed, Iran
Tel.: (+98) (5221) 3359
Opening hours: 7-17; closed Fridays
Type of museum and objects: Archeological and ethnological


This museum, located in the complex of Ferdowsi Mausoleum, was formerly used as tea-house. Following renovation works in 1982, it was transformed into a museum, which, due to some deficiencies, was soon closed until 1987, when it was reopened to public.

Ferdowsi Museum houses both archeological and ethnological sections. Archeological items were excavated from different regions of Khorasan, including Khaf, Torbat Jam...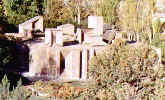 Museum Building at Tous Complex