Address: No.50, Iran Steet, Tehran, Iran
Type of Museum: Specialized
Type of Objects: Glassware and Ceramic Artifacts


Building of Museum was the residence and office of "Ahmad Qavam" until 1951. Afterwards, the Egyptian Embassy in Tehran took over the building and finally handed it over to the Iranian Commercial Bank.

From 1976, a group of Iranian and Austrian architects refurbished the building and converted it into a museum which was opened on 1989.The decorations of the building include brickworks of the exterior facade and interior plaster cutouts, mirror works and inlaying.

As one of the Iranian famous museums, Abguineh museum comprises several halls and workshops and a library. Art works and handicrafts exhibited in this museum include three collections of porcelains, glassworks and crystals.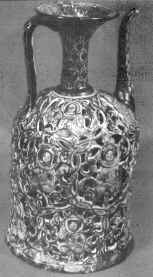 Porcelains
The magnificent collection of porcelains exhibits a thorough history of ceramics and porcelains made in Iran from the dawn of history until today. It also provides a bulk of information about the evolution of porcelain and its production technique. Major centers of porcelain making in Iran including Kashan, Ray, Qazvin, Gorgan and Neishabour are also introduced.

Visiting this museum, you learn about simple and colorful glazed porcelains and the art of decorating them with calligraphic designs, paintings of plants and animals and geometrical designs over and under the layer of the glaze.

Some of these porcelains enjoy paintings on the basis of proverbs and old mythical and folk tales.

Glass works
Glass works that are exhibited in this museum start from the ones made in the first and second millennia BC and extend up to modern ones. In this section the glass works production technique including the sand molds, cutting and pressing equipment are introduced. The painting method on the glass is also exhibited.

Crystals
On the ground floor hall of the museum, crystal and flint glass samples of 18th and 19th centuries are exhibited. All these samples are mostly cut and made in Europe.

Specialized Library On the northwestern courtyard of the museum, the newly constructed building of the library is visible. This specialized library contains almost 4,000 books on archeology and the history of art. A hall is also allocated to exhibit the glassworks and porcelains made by contemporary artists and craftsmen. Workshops to teach production of glassworks, crystal cuttings, porcelains and their painting are also provided.

Some Pictures of the Museum Artifacts

1) Glassware and Ceramics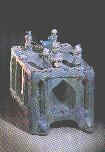 Earthen Building Mode
Glazed turquoise and azure
Gorgan
13th. century A.D.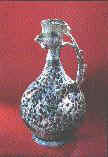 Glazed Turquoise Two-Lining Jar
Turquoise
Gorgan
13th. century A.D.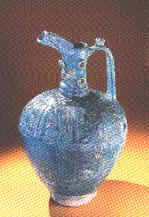 Glazed Turquoise Earthenware
Turquoise
Gorgan
13th. century A.D.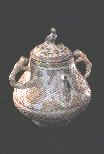 Golden Enamel Canteen
Whitewith golden, turquoise, azure, ochrand black painting
Rey
Late 13th. century A.D.

Glass Jar, blown in amold
Azure
Gorgan
13th. century A.D.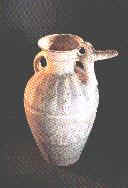 Earthen Glazed Pitcher
Ardebil: QaraDaq
1st. millennium B.C.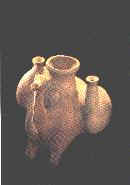 Seated Camel Shaped Earthen Vessel
Brick red
Azerbaijan
8th. century B.C.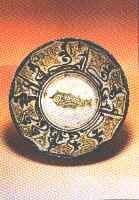 Painted Earthen Bold
Ivory with dark brown and olive green painting
Neishabour
11th. century A.D.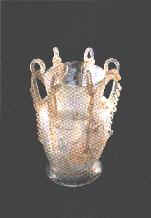 Glass Icicle
Turbid
Gorgan
12th. century A.D.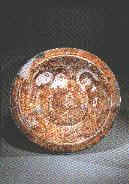 Golden Earthen Plate
Brown pattern under golden enamel
Kashan
14th. century A.D.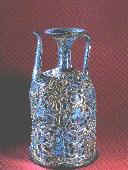 Two Lining Ewer
Turquoise with black under glazed painting
Kashan
14th. century A.D.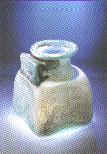 Glass Jar, blown in mold
Bright green
Syria
14th century AD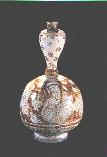 Glass Rose
Bright green
Gorgan or Neishabour
12th. century A.D.

Crystal Bowl
Pale green
Achamenian Period

Golden Earthen Decanter
Brown patterns on white background
Gorgan
2) Glass Perfume Bottles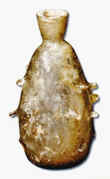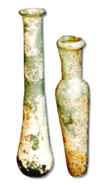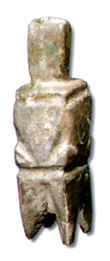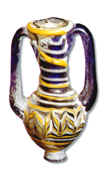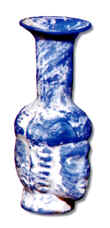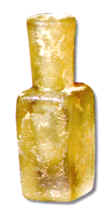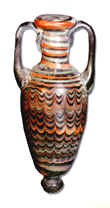 3) more pictures: Glass-Earthenware