No Title Surrealism
Shirin Madani
Translated from Persian to English by "Farzad Emami", Iran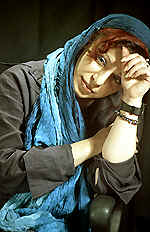 From the old years, the hands of painters and sculptors have recreated religious epic, historical events, poor and wealth, happiness and blues of the common people and the aristocrat's society sophisticated. They could merge art into everyday life.

During study of the history, we can see that temples and castles had got spirit by artists' creations in ancient era. In the middle ages, the abilities of artist were belonged to churches and governors of the cities. In renaissance era, the art had been glittering with its full power. The mankind approached new realm in art field along with scientific development and exploring new lands. Mans' life had affected by developing technologies in 13th century, and art got its affection as well.

Invention of camera, took place a competition for eyes and hands of artists against lens and aperture. Gradually, part of artists' duties referring to narration, recording features and events were done by the photography camera and then, later, by the movies camera.

At present, evolution process of this equipment that have made a new branch in art, leads artist to new ways. It is better to say the aim of artists has changed.

The creator of a work, who reflects all movement and inspiration of his/her time, tries to say whatever he/she wants concerning the updated tools. This is the cause of appearing of artistic ism during recent century. Surrealism, which means ultra-reality, is a spontaneously psychic movement. The target of it is expressing meditation function orally and graphically in absence of all kind of stoppage elements. The target of it is challenging for expressing imagination and internalization. This school has been the most important movement in century from the sensitiveness and creativeness points of view during history.

Breaking the rules, passing through the boundaries, methods, discussion, disputation on art, independence and complete departure of the mind and imagery world, visionary and self-conscience are the attributions of this school.

Surrealism is not a style, which was created with its creation! Many painters know it and they have lived with it due to their dreams and due to another world, ultra-world, upper than the one they live in.

Surrealism has noticed much more on dream and sleep than other schools. Surrealism is one of the schools that have appeared during recent century. In philosophical culture, surrealism is based on believing in association of forms, the unique power of dreaming, and an activity of mediation with no motives. Surrealism is resulted in permanent disappearing of other psychic mechanism, and placing itself instead of them for solving main problems of life.

A movement in art and literature, which has started from the heart of Europe after World War I, spread among many countries. Many painters have continued to paint surrealistic in post war era. Each of them searched out in our inner, hidden, sleepy world. They create fantastic and mysterious world by placing strange beside familiar or alteration, common relation and composing hidden relations, like dreaming atmosphere. Ultra-reality thoughts and considering inner world of the human that surrealists expressed existed in the different cultures in variant features.

Many artists and painters have been expressing their ultra-reality thoughts on paper from the past centuries. Even in expressing invisible world, Iranian miniature can be an example. Iranian artists for departing from the body world and closing to the spirit world have been neglecting mere imitation from nature. Also they were inevitable to create ultra-reality atmosphere for illustrating literary content describing in stories and poems.

With studying Iranian art history, we find out that Iran has very rich and old culture. Thinking about and considering to inner world have been interesting for Iranian for many years (and still exists). So it should be noticed that Iranian contemporary painting has precious history. As history tell us, Iran have been one of the great civilizations in the world and the works have remained in this field can prove it.

The activities of modern painters during 1940-1970 have been in the modernism attitudes including impressionism, cubism, surrealism, expressionism, realism, naturalism, op, pop conceptual and traditional styles.

Nowadays, we know Iranian painters that could be known as surrealist. But there is no right research to find out the position of them up to now. In Iranian contemporary art, some group of painters has paid attention to surrealism since 1960s. This attitude was just a limited experience for some of them. But there were few of them, who known as contemporary Iranian surrealist painters, take this suitable style to express their inner world and thought.

The painter makes content of his/her work by his or her thought, feeling and vision. The content is the thing, which the painter discover and emphasis it in his/her subject. Surrealism is a method to response to inner artist's needs by applying visionary, dreaming and unconscious world.

The difference between this artist and other realistic artists is his/her imaginary sight. Draught to dreaming world and escaping from objective reality have been always in Iranian artist's innovation realm. Therefore many contemporary painters, who have special style today, some time at the beginning of their studies, had been interested in surrealism and symbolism. Here the artist does not pay to "expressing" and "structure" experiences of the reality of art. Rather he/she just illustrates his/her psychic reaction against outer reality. The resource of these attitudes can be referred to infatuation to the old magic art. The surreal moment in artist's thoughts is the moment that artist illustrates his/her imagination involuntary and reaches out to the ultra-reality comprehension from the pictures. Always there is a certain point in mind, in which from that point life and death, verity and figure, reality and imagination, past and future, ups and downs lose their contrary. It seems that surrealism is one of the permanent schools in the field of art.

Surrealism is not a style, which was created with its creation! Many painters know it and they have lived with it due to their dreams and due to another world, ultra-world, upper than the one they live in.

The natural historical events in recent decade in Iran (revolution, war, flood, earthquake...) have impelled painters to the subjective attitudes more than the past, which surrealism among other has a special position. And this position goes far than painting to photography and movies and it gets more importance.