.
Rosa Bonheur (1822-1899)
Born in Bordeaux, Rosa Bonheur received her training from her father who was a minor landscape painter. In 1829, she moved with her family to Paris. While unconventional in her ambitions and personal conduct, Bonheur was traditional in her working method. She studied her subjects carefully and produced many preparatory sketches before she applied paint to canvas. Bonheur's reputation grew steadily in the 1840s; she regularly exhibited her animal paintings and sculptures at the Paris Salon, from 1841 to 1853. The Salon favored traditional work, and most artists sought to exhibit at the annual shows, as it was the primary way for their work to be publicly seen.

The government of the Second Republic awarded Bonheur a commission. The resulting painting, Plowing in Nivernais (Musée Nationale du Château de Fontainebleau), exhibited at the Salon of 1849, firmly established the artist's career. In 1853, she won international acclaim with her monumental painting The Horse Fair (Metropolitan Museum of Art, New York), which was exhibited in England and which Queen Victoria greatly admired.
Rosa Bonheur was the most famous woman artist of the first three quarters of the nineteenth century. Although many women at this time were amateur artists, it was very unusual for a woman to pursue painting as a serious career. Also unusual was her family's support in that endeavor. From age ten on, Bonheur spent hours sketching animals in parks on the outskirts of Paris; by age seventeen, she was contributing to the family income by making copies of paintings in the Louvre. Since it was not possible for a woman to attend the official schools of art at this time (that right was not granted until 1897), her father served as her instructor.
Although radical in the way she lived her personal life, Bonheur was politically and artistically conservative. She worked in a very traditional way, making sketches and studies in preparation for larger, final paintings. This is an oil study for her most famous painting. The study is quite small; the final painting is 8 x 16 feet. Bonheur believed in direct observation of nature and was determined to be accurate in all details. To this end, she dissected animal parts, sketched from life, and attended horse fairs, which were opportunities for dealers of horses to show off their stock to potential buyers. This was not the type of event normally attended by women. To avoid the taunts and comments a woman could receive if she were seen at a horse fair, Bonheur applied for permission from the prefecture of police to dress in men's clothing, and received authorization to do so in 1852.

In the painting, the horses run around energetically in a circle, showing off their value to potential customers. Bonheur's love of animals is reflected in the way in which she successfully conveys their power and majesty, while their handlers have to concentrate fully on keeping them under control. The viewer's attention is focused on the horses by the simple surroundings—a wall, trees, and small patches of sky—and also by the fact that no barriers exist between the viewer and the animals. The foreground is open, allowing easy access to the scene.


.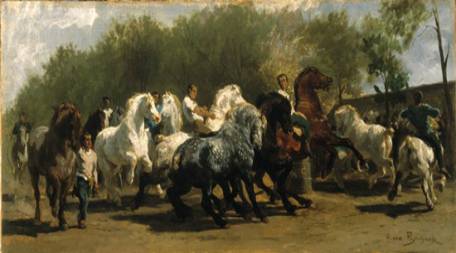 .
ROSA BONHEUR FRENCH, 1822-1899
The Horse Fair, ca. 1852
Oil on canvas, 10 1/2 x 25"
Elisabeth H. Gates Fund, 1927

The final version of The Horse Fair was shown in Paris in 1853 and received enthusiastically. The work also attained widespread popularity in England, and engravings were made and sold in a number of other countries as well. Rosa Bonheur was the first woman to receive a cross of the Legion of Honor in France, a reward for outstanding achievement in her field. The Empress Eugenie, wife of emperor Napoleon III, bestowed the honor upon her personally in June 1865. The empress wanted to show, as she said, "genius has no sex." (Dore 107). Rosa Bonheur's naturalism and ability to capture the individuality—even the "soul"—of each of her animal subjects coincided with bourgeois tastes of the time. Realism was the realistic and natural representation of people, places and/or things in her work of art.

The Realists, including Bonheur, tried a more objective interpretation, whereas Romantic painters saw animals as the touching correspondent of man. "Many Romantics preferred wild beasts as exemplars of unbridled passions, but the Realists usually depicted familiar, domesticated varieties" (Sanders, 55). Throughout the Realist era, artists strove to illustrate truth and detail. Nature and humanity were painted in a realistic manner. Bonheur painted her subjects in a Realist way and painted animals Romantically. Bonheur "studied her subject matter scientifically, in which she captures marvelous detail, yet there is Romanticism in the way she uses color, captures natural beauty, and composes her paintings" (http://www2.students.sbc.edu/young02/rosa.html).

Rosa Bonheur chose a good time to paint. It was a time, when a great societal shift and established fostering for art was in existence with the flourishing of the bourgeoisie and the decline of the upper class… commonplace subjects were being sought after due to Europe's farming community. "It was now the end of the revolution, and according to Ashton: Rosa's tranquil landscapes and animals suited the ambivalent mood of the threatened Republic: she was neither too classical and fanciful, nor was she lacking in sentiment. Her subjects could easily be identified with the ideals of the new democracy, and her realism suited the prevailing interest in "scientific" attitudes toward nature. Rosa's painting style was exactly what the bourgeoisie wanted" (http://www2.students.sbc.edu/young02/rosa.html).

What is particularly interesting from the modern feminist viewpoint is Rosa Bonheur's ability to combine the most vigorous and unapologetic masculine protest with unabashedly self-contradictory assertions of "basic" femininity. As far as the question of masculine dress was concerned, she was quick to reject her interlocutor's suggestion that her trousers were a symbol of emancipation. "I strongly blame women, who renounce their customary attire in the desire to make they pass for men," she affirmed. "If I had found that trousers suited my sex, I would have completely gotten rid of my skirts, but this is not the case, nor have I ever advised my sisters of the palette to wear men's clothes in the ordinary course of life. If, then, you see me dressed as I am, it is not at all with the aim of making myself interesting, as all too many women have tried, but simply in order to facilitate my work. Remember that at a certain period I spent whole days in the slaughterhouses. Indeed, you have to love your art in order to live in pools of blood... I was also fascinated with horses, and where better can one study these animals than at the fairs...? I had no alternative, but to realize that the garments of my own sex were a total nuisance. That is why I decided to ask the Prefect of Police for the authorization to wear masculine clothing." (Biome, 401)
.