.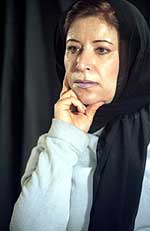 Fereshteh Sari
Iranian Poet & Writer
(Photo: Masoud)



Research: Iran

Fereshteh Sari

.
Literature: Poems of Iranian Poet and Writer, Fereshteh Sari
To Wither or to Blossom, Translated to English by M. Alexandrian
- My silver faced girl
of my restless country!
who are you that the tooth of greed
is scratching on the veins of your arms
and plundering
your silver body.

- My eyes, endless black wells,
and my lips are rosy red
with the same fate
- to wither or to blossom -
my body spreads the perfume of earth
and my arms spreads the perfume of labor.

? - My daughter who has known the taste of being awake,
why are you so restless
like the fish in the net.

- This is a dance between death and life;
the hunter
is awaiting to lay my body into earth;
the sea
has opened her arms to take me to her embrace.

The sea,
the embrace,
the hunter,
the dagger.
I,
all the gaze;
on a living and fighting heart
deprived of its body
beats blood on the earth.

Empty Houses
Empty houses
are like frames without frames
on the city wall.

On the clean shelves
the lantern and the mirror are extinguished.
the clean windows
look like a scarecrow
in a burnt orchard.

The dry vision of corn
is empty of spring.
the rain breaks on the bags of sands
and the blossoms ascend the bags
like insects.

The roar of missiles,
and the sobbing new year festival have scattered
in the city frame void of pictures.
Winter
In winter
the house is empty of the bird's sleep,
the birds' bedclothes
has been carried away by the autumnal gale.
naked of birds, the tree
has remained without memory.

I paint a violet and the lotus ,
but the butterflies have flown afar.
how chilly is the absence of the buttery and the bird.

The cold swamp
has drawn me into itself
and the memory of spring,
is a sacred Guly image
which no more makes you wonder.