.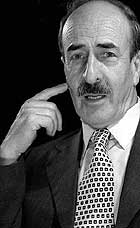 Farhad Abedini
(Photo: Masoud)

Research: Iran



Farhad Abedini



.
Literature: Poems of Iranian Poet, Farhad Abedini
Sir,
I'm lost, Sir,
haven't you seen me?
No.....
I was wearing a stripped dress
with a silk jacket
and a hat which I never put down.
I had a compass
which I carried with me wherever I went.
So far I haven't been lost,
accidentally today
I put down my hat
and forgot my compass.
Now
I can see colorful hats around me
and many paths in front of me.
I have been lost, Sir.
Haven't you seen me?

Tired
On which door sill are you standing?
now
and what is the tired smile
now that you are back from work?
Arezou, pour me a cup of tea,
I'm tired,
and I have born the load of nostalgia on my shoulders
from my childhood,
the load of my nostalgia,
my family's nostalgia;
and now you.
Pour me a cup of tea,
I'm tired,
too tired to shut my eye-lids
with kindness.
Let me see your eyes in my dream.
I'm too tired
to compose a poem.
Pour me a cup of tea,
I'm tired,
tired.

The Magic-Breathing Spring, Translated to English by M. Alexandrian
The breeze is blowing, now
- the spring is on its way;
wild tulip blossoms are budding crimson red;
will the magic-breathing spring triumph over the stone and snow?

The breeze is blowing, now,
- the spring is on its way,
the migrating birds will return again
and will build nests
and will sing
all over the plain of green sympathy.
The atmosphere breathes of freedom,
and the seasons are lengthy seasons of free excursions in the garden
- and singing songs,
for there is no trace of the cage
- and the spring is on its way.
Recollection
The knocking of the wind
on the window panes
and the scratch of a thorn on the heart;
the opening of the window
and the watching
of the tearful sky
and the onrush of winds
and then suddenly your eyes
which circle like butterflies
around me
and are restless.
On which part of my chest
should I bury
this butterfly,
to leave me alone?
O how sad is the sky
and how stormy is the air.
The Seventh Heaven
The heart cannot be healed;
I must crucify it on four crosses
at the four corners of the town
so that four wise angels
at the silvery break of dawn
shall steal it
and carry it to the seventh heaven
and put it on trial.
I know that it will be acquitted;
they fill forgive it
to express thank to its many heartbeats
its sincerity
and its love of beauty,
it will be acquainted.
But from that moment on
restlessness and the beating of pulse
will spread among all angels
and love
will fall from the sky
drop,
by drop,
by drop..

Dream
You come with the wind
and cross the holes,
search the four corners of my room
and your perfume spreads
in my house.

You caress my hair.
Your tresses fall on my face,
to stop me from seeing the sun;
then in utter darkness
you murmur love
and stamp friendship's seal in the form of an angle
on my chest;

and then
calmly you tip-toe
deserting my dream
and leave me alone with my dream
to await another dream.