.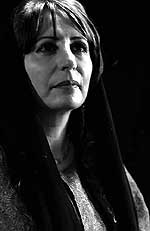 Rira Abbasi
Iranian Poet
(Photo: Masoud)











Research: Iran

Rira Abbasi

.
Literature: Poems
We, children of the world,
With USA, have a word,
We frown,
We demur,
We Protest:
No more war in the world:
It's enough.
It's enough.
What dreams, we have at nights!
What horror dreams!
What, if daddy is wounded?
What is our home in dull?
Dear Angela, say please now
O' children of the world,
What Can I say to us?
I'm ashamed to say, where I come from.
They took daddy to the front
They forced daddy to fight
With whom is he fighting?
Who can answer my question?

O' daddy, remember!
Never entered in my room
Without knocking at the door
O' children of the world!
I'm ashamed, when I see.
Like a wolf in Baghdad streets,
Daddy is wandering with dwarf Uncle Sam,
Wreck the doors of the houses,
With their nail–shaped boots.
O' children, tell the world:
Does a toothless baby have a gun?
O' children, I'm ashamed.
When I see daddy.
Ruins the houses. Kills mothers and babies,
O' children!
O' children!
How can I say where I come from?
I'm ashamed
I'm upset.

We children of the world,
With USA have a word.
Every land has a treasure.
Gold and iron and steel,
Tobacco, sugar, oil, and wheat
Grapes, dates, olives, and endless seas
In children's world,
Everything has a worth.
Their flags has a color, has a shape,
has a star, has a moon.
With smiling orange sun
Watch the cartoons!
Watch the animals in jungles!
The mouse and the cat are kind,
They love their children.
Shame on you!
Getting a piece of bread is not hard.
It needs no gun and no fight.
Every house has a door and window.
Daddy, mommy and their kids,

They need peace and comfort,
Children need to study, to be happy,
Watch football games, pretty flowers, and swim.
They want to grow up,
They hate bad dreams,
They want to think,
They like to fly like swallows,
Having a green branch in their mouth.
Fly high and plant olives on the moon.
Let's be kind to each other,
No matter how much bread, how many children
Appreciate each other,
Sing with a healthy soul:
We need no more bread, not a big belly.
We need no guns, no wounded men in fights,
Hostility is meaningless.
If we are friends,
If we are good neighbors
We can borrow; we can lend water and bread
We need no war!
Why are rockets expensive?
Translated to English by M. Alexandrian
A little demon
shan't be born
surrounded by white walls
the little demon won't be cheated

Mummy dear!
Why should I exit out of my egg?
I float in soft water and sun
a possess a white and soft land too
you can't guess, I might be born in this country.
Is someone awaiting me with a revolver in his hand?
Bronze Woman
The bronze woman
opens the door
her body is bored with shrapnel
and in front of her the president
watches a child
that is rubbing the spattering of her ice cream
on the museum weapon.
Had the Sky Been Blue
My friend,
sitting on my little shoulders,
Iranian, Bosnian, Iraqi, Afghan….
my friend
for the same of your smile
my shoulders are born
every morning early
to remove your wounds
although they have shut your smile
with gunpowder
perhaps in the absence of the first war,
second war
third or the last one.
My friend
when you let your silent fly and you spoke
at a distance, the size of one thousand part of the ant's wing
then
all the bombs in the world will grew silent
in front of you.
we all know
you are alive beyond the natural strength of man
when in the plan
you are returning home
tired, wounded and abandoned.
Which home are you returning?
When the sky is empty of peace
and the prevailing war
is tearing away your newborn's eye
until the end of his life
I grieve for your future
I grieve for the future.
I am tired
but
I worry for your future…
I draw a nucleus from the atoms of wounds
your body is thin
tomorrow
tomorrow
I will get my shoulders born wider
for the same of your smile
had the sky been blue.
Come
I have brought so much pigeon eggs
for you
speak!
tell me
where have you left you legs?


I shake my hands for the helicopter
it is green
and the sky is blue
and the house is full of chocolates.
I Am Crazy
Look how I dance?
see how I flap my wings against the sky
I am crazy
or
I am the sound, the sound, the sound
of a crazy man
Or
I will lose the swallows
in the jet Phantom smoke.
Bring No Gun for This Lor Woman Anymore
Bring no more guns
for this Lor woman
whose hand is full of salt
and her skirt full of flowers.
tell the poets of the cornfield to come
with the color of blood, the color of henna
they may even sing lyrics merrily
until
her black skirt
please bring no more guns for this Lor woman,
bring no more guns.