In Open Guards
Short story by "Hossein Sanapour", Iranian writer
Reprinted from: Global Seminar of Fiction and Dialog Among Cultures, Farokh Negar Pub., Karnameh, Negar EskandarFar, 2004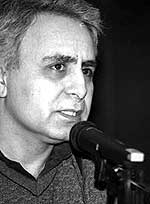 Your red gloves flapping just like a dragonfly on my rough face, without leaving me alone. I see your eyes beyond that flapping. You won't let the dragonfly to rest a moment. But you see that I draw back my head, but my feet are at the same position. As you may be aware that they had been before. Your hooks disfigure my rough skin and beneath them my cheekbones and meat.

I love your fierce look and your fresh moving legs. These hooks and punches that beat my face in and out. They are links between us and they are not very unimportant. I have nothing to do with them. The main point is that you are my partner and competitor. I couldn't be hearing without you. I love you for this very reason; I love you and your boxing.

Beat! Oh, you are very smart, you hide your head beyond the moving fists. Oh, yes my face. You have learned to save your power and not wasting it, you have learnt not to exhaust yourself. What's the use?

Left, left, right hook! You have learnt your lesson well. You know how to distract the opponent with left hand and punch a deadly strike. Do you hear cheers for your upper cut? This upper cut will remain in the memory of audience. They say do you remember that upper cut, punching his jaw, Boom! Just like a canon. But, you should ignore that hurrahs. They can do nothing, but hurrah and bet. Look, they are shouting their heads off to draw your attention and mislead you. I know that my fans are cheering. I don't like to look at them. I know that they enjoy the scene, in which I resist forcefully, but I don't give a damn. You are well aware that if you knock me down, my fans will rear your apart. They are my fans. They cheer for me for many years. They have been watching me in the ring. They do not have change their seats.

Sometimes, a few of them come to this side. But, I don't care. If there is a match, I will be preset there. With audience, or without, I will stand up to the end. But, my feet are stable and stoned. My flesh and blood are beaten smashed and shrouded. My veins transfer no blood or sweat. I stand there till my fans throw flowers at me. If they stone me, I feel the same I don't feel it. There is no pain. Just like now. You smashed me with you first in my jaw. My left jaw, why? You are looking at me. Staring at me. You have taken me unconscious. The rest are like you. I am used to it, however. You are all the same. Sometimes you behave like others. I know that there is a lump in your arms You get rid of it, just when you smashed something. I know that you will sigh, when you open your chest. But, I don't get the point.

These ropes were not torn and blood stained since the beginning. First, everything was neat, just like my own flesh. Like the cheers of audience. Oh, what a bad smell. Then, it was easy to breath. Everybody was coming for their own pleasure. But, now, it is impossible to play that way. I cannot do anything in other way. I have nothing to do. So, I should fight. I am in the rings for just this reason, fight till the end. And now, you have come along fresh and sane. You are crisscrossing me round and zigzag. the audience will remember you, for at least sometimes.

Your hands are fast and swift. If not, so I determine by looking into your eyes that you are very young. You are not in the same position and the same place, from where you punched me. I realized that you are eager to win and defeat me. Failing and defeat is very hard. It is especially bitter for you. Oh, how young you are. I will come to you, like a shadow. I will defeat you by my heavy weight. By my body, why don't you fight. Now is eleventh round. You are drowning in your sweat. My open guard does not allow you to attack and fight. It is just a simple act of boxing. You cannot think well. You cannot operate your thoughts and learning. You are coming in my hitting circle. You can fight. You can dace. You can look at my eyes. Your boxing gloves are like dragonfly. Look at my arms, heavy as lead. Like two trunks of a tree. Spilt in two. My face is yours. I shut my eyes. Just this and no more. But, I hold my arms and hooks for the end. When you come here in my arms reach. I will knock your head off. You are angry.

It is eighteenth round. You began to think about defeat. You don't believe that you can beat me and knock me down. My heavy body, full of muscles and fat. My thick neck. You look. You punch me very nice and fierce. You bit your lips. Your full lips. Also those lips will kiss my boxing gloves. You have long lashes. You don't bear defeat. This is not blood. Pouring on my lips and chin. If it is, it will be easy. The Final point is approaching. I hate it. It is pouring on my lips. Beat till gloves clean it.

Which round is it? What does it mean? My face goes numb. Maybe you are beating and punching with heavy hooks. Round 23, 24, 25. I cannot walk. You are going to see, what you have expected. Show off is over. You have not been taught. You can swear. You can use bad language. But, they are not to be blamed, you coaches, I mean. I stand here forever. You never learn. For me, defeat is nothing to consider. Winning and defeat is the same for me. You may know that I am fighting with open guards. I don't bother with issues out of these rings. Now, you are in your open guards. You cannot close it. Your lips and jaws are leaden. You feel it. Just this and not contraction to your skin. Not even the trembling lips. Now, you are imitating boxing. You feel that ropes and shouts penetrate in your head. Your skin is contracted. You are heavy, like a piece of lead. You don't want to go forward. You won't stand it anymore. Finished. I won't let you waiting more.

You are heavy and loaded like lead. You don't feel any pain. The shout of audience is not heard. Everything is crashed in your head. When you are knocked down, the ring trembles. It is better. A melting wave surges in your body. Pain. But, in fact, it is death and lie.

A few people came toward you. You are on the floor. I go. I should go. I cannot stand to see my own heart flattering on the ground.