I (They) get even with them (me)
Short story by "Leila Sadeghi"
Iranian Story Writer, Editor and Translator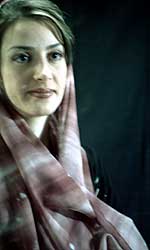 There drops a milk stain on the carpet in my room. I clean it up with my finger, but it has left a hollow on the carpet pile.

Next morning, I notice a dark spot next to me. Little and large ants have gathered around something. Dispersing them with the spine of a book, I find it to be the same stain dried up.

A while later and the stain turns black again. I blow onto it. Some of the ants keep themselves aloof, some hurry away, and some others hold on to the stain firm. I decide to eradicate them so they no longer come back to the stain.

Any time a group showed up; half were crushed, a quarter lamed, and the rest ran away. There was no end to the ants dying.

As I wake up, I see another group of ants around the invisible stain and even around those sank dead into the pile. I wonder if it's them or me retaliating. Sure, they'd one day circle around me and t a k e m e a w a y i o t a b y i o t a.