Some famous rug designers of the late 19th and also 20th century are:
Isa Bahadori was born in Bozchelu, one of Arak counties. He ha his school period in Tehran (Kamalolmolk School). There is a little information about masterpieces of this artist of Arak, as most of his works has been exported to foreign countries.
Some other designers are Asadollah Daqiqi, Abdolkarim Rafiei, Asadollah Qaffari (Anjedan).
Asadollah Daqiqi was born in Isfahan, but as he was very interested in drawing and designing rug images, he went to Arak (Soltanabad) and learned rug designing in Mirza Abdollah Raisabadi School. He, along with Abdollah Rafiei, who was the student of Mirza Abdollah Sheikh, established a rug designing center.
Seyed Hassan and Seyed Hossein were two brothers, who came from Tehran. They had much experience in Gol Farang, Corner-Medallion, Bouquet and Overall Flower images and also in ancient designs of Arak. They both died in about 1926.
Another well-known rug designer is Jafar Changi, who was born in 1903 in Arak. He was famous for his Bouquet and Gol Farang images.
Among these designers, it has to be mentioned to two great designers of Arak called Zabihollah Abtahi and Asadollah Abtahi. Zabihollah Abtahi known as "Aqa Zabihollah" (worker), was born in 1897 in Arak. It seems that he had been the most well-known rug-designer of Arak. He started design learning, when he was 10. One of his teachers was Sadeq Baqeri. He had full experienced in Arabesque and Palmette Flower designs.


Zabihollah Abtahi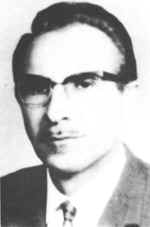 Assadollah Abtahi