Geography of Isfahan
Isfahan is the center of Isfahan province and is placed in a vast region of Central Iran, abounded by Zagros and Central Mountains and ended to "Kavir Lut" and "Kavir Namak" Deserts. As Zayande-Roud River passes through Isfahan, not only freshens its climate, but also brings the land to the high potential of agriculture and pastorals.
Isfahan is within 424 kilometers South of Tehran. It is in 51,40' East longitude and 32,37' North latitude. Isfahan is in 1590 meter above the sea level and extends to Kashan and Natanz from north, Yazd from East, Abadeh from South and Najafabad and Golpayegan from West.
History
It is a long time since Isfahan has became one of the most important cities of Iran, because of placing in the way of Major roads and also existence of Zayandeh-Roud River.

Isfahan's flourishing period was in Safavid era, when capital was transferred from Tabriz to Qazvin and then to Isfahan, to obtain more security. They had the best crafts and art in "Shah Abbas" Period, such as magnificent architectural buildings, enamel works, Inlaying, engraving on silver, gilding, embroidery and weaving; and also had a good business on those goods. Many tourists, as Chardin, the English, have traveled to Isfahan in that period.
Weaving was also flourished in Safavid era. By the time of Mongol invasion to Iran (in 1722 A.D.), and fall of Safavid dynasty, this craft also was stood still.

Not until 1920's, between two world wars, weaving was taken seriously by the people of Isfahan. They started to weave Safavid designs and again became one of the most important poles of Iranian weaving. Isfahan carpet is most wanted in world market and has many customers in western countries.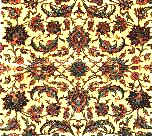 Overall Arabesque design