Isfahan rug is one of the fine woven carpets, that number of its wale is above 40 (Isfahan rugs have 800 knots per square inch). Knots are Persian (asymmetric) and usually with double weft, so rugs have been woven finely.
In Isfahan, like other Persian weaving parts, such as Kashan, Qom, Kerman, Yazd, … knitting is done by hand, without using hook. Isfahan weavers, doing wefts by a wooden tool called "Koji", but they hit knots on the warp by heavy combs. Usually Isfahan rug is woven in small and middle sizes and hardly in big sizes. They are mostly in 1.1/2 zar, two zar, curtain size, …(zar =104 cm). It is hardly seen that runners have been woven in Isfahan.
Fine woven rugs and silk motifs of Isfahan are very famous and outstanding. Usually these rugs are woven on silk warp. Fringes of these rugs sometimes reach to 15 centimeters. Round shaped rugs are also woven here.
Shawl (a kind of kilim weaving) in final part of rugs (3-5 wale) is another customs of carpet weaving in Isfahan.
Vertical looms are used in weaving of Isfahan carpets. In Isfahan looms a piece of wood called "Pelepich" is used, that passes through strings of lower warp and connected by metal wires to beneath of loom. This wooden piece helps in final part of weaving, when lowering down the rug and also short warp knotting occurs, when knotting upper warps on the top of loom is not possible, weaving will be continued by transferring "Pelepich" to upper level and passing upper warps through and connecting it to the top of loom by metal wires.
Turkish knots are also used in Isfahan weaving. These knots are used only in rugs named "Armenian Weaving", which are woven in other cities of this province, such as in Isfahan weaving, plain parts are usually woven by double knots and fine parts (fine motifs) by single knots. Some of weavers use more delicate piles in some parts of fine motives. This difference in delicateness of piles makes lower piles of fine motives, which is called "Low Weaving Carpet".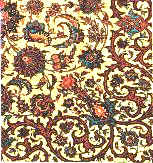 Overall Arabesque design