Here are the general specifications of these types of rugs :
1. Thread strings: Natural colored wool, often white, sometimes camel, gray or pepper brown in color.
2. Weft: Thin or thick (double) colored wool, rarely cotton.
3. Fluff: Wool.
4. Color: Natural dyes, rarely chemical dyes .
5. Knot: Persian knots but occasionally Turkish knots. Maximum number of knots 2000 in a square one decimeter.
6. Kilimak: Often wide and colorful, rarely narrow. Sometimes wide with large motifs. The width sometimes reaches 20 cm.
7. Lavar: Often wool and rarely goat hair.
8. Pattern: In this type of Systan rug contrary to the ancient type, central pattern is different from margin pattern. Rugs from this period are similar to Iranian rugs of the Islamic period.
Patterns are , Toranj (Medallion), Toranj Toranj, Three Toranj (Three Kheshti), Three Toranj - Half Toranj, Two Toranj (Two Kheshti), intertwined three Toranj, and other prevailing patterns such as: flower pots, frames, portraits (such as Shah Houshang), jungle, corner (Lachak) or Corner Medallion (Lachak-Toranj), trees, landscapes, Armlet, Dah-Mardeh, Siah-Kar, prayer rugs, Nowrouz flowers, hunting grounds...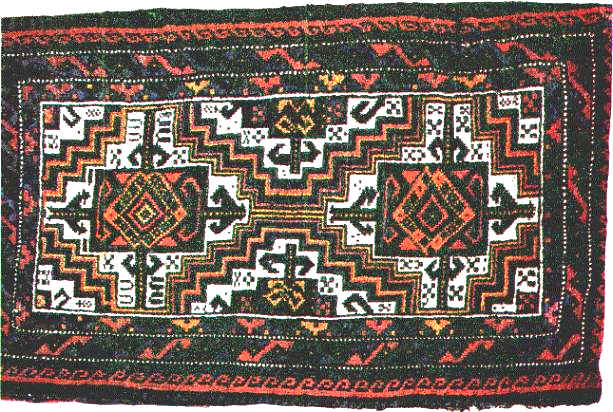 60x90 cm, Poshti (about 1940)