Weaving of Systan Rugs:
A. Wool: There are two types of wool in Systan.
1. Local sheep wool from sheep known for their good quality white wool. It is weaved traditionally by hand and delivered to tanneries where it is dyed by chemical colors.
2. Wool mainly produced in Khorasan and sold in the local market. The quality of this products is incomparable to that of local wool.
Rugs using this wool are woven in two groups:
a) All wool
b) Cotton wrap and woolen fluff
B. Cotton: Cotton is obtained from Khorasan weaving factories.
C. Hair: All the Lavar in current rugs from Systan are made of weaved goat's hair.

Labor:
Labor, mainly, consists of girls between the ages of 10 and 20 who are hired by either private or public rug weaving workshops. There are some who work privately at home.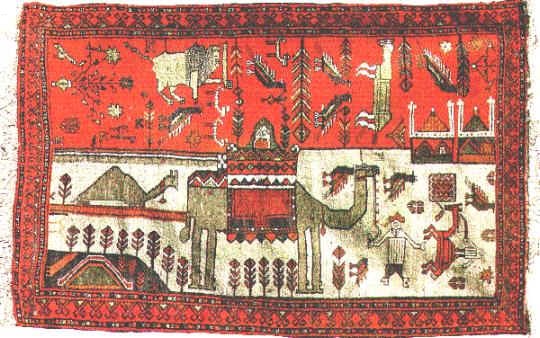 110x170 cm, Pictorial Rug